Weekly Technical Forex Analysis and Trade Setups ; March 20 – 24, 2017
USD is weaker against major pairs after the rate hike from a patient Fed. FOMC statement and Yellen was less hawkish.
As you know we were neutral ahead of rate hike as the whole market was anticipating a hike. And technical position of dollar was not bullish with most of its counter parts. Though our long time view of a bullish dollar remains same.
Let's look at the trade ideas and their probable setups for this week.
(All charts from FxPro)
EURUSD:
Temper: Neutral
The position of EURUSD is kind of bullish as price above the 1.0652. It has some bullish influence from Fed.
1.08186-1.0850 would serve as resistant. We will wait for bearish signal from there before take short positions towards 1.0652.
A break below 1.0652 would open door to the KEY Support 1.0520.
EUR is more responsive to the EUR zone election poll. So, don't get confused by the fundamental teasing but strict to the technical chart.
GBPUSD:
Temper: Neutral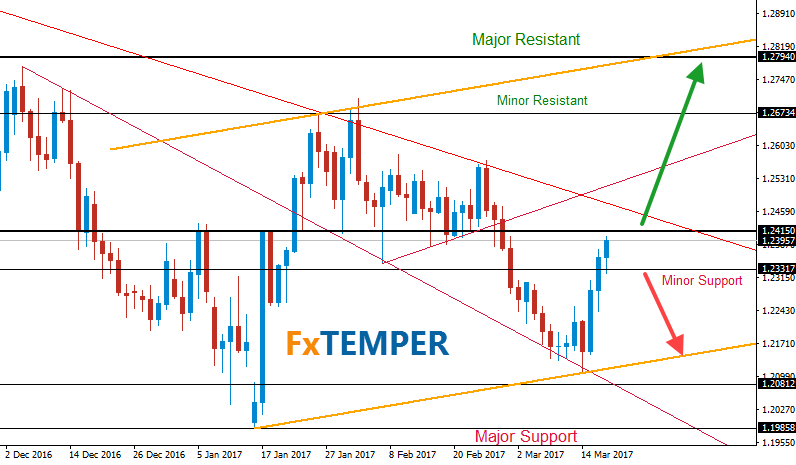 Sterling was in a bearish territory for couple of weeks as there was less support from economic data. However, a less hawkish fed push the cable above Major Support 1.23317 and we will face inflation data at Tuesday. A positive data what market is anticipating. A break of 1.2415 would open door towards the major resistant 1.2794.
GBPUSD might forming an ascending channel in D1 chart (Golden color). The fate of this probable channel also depends on a breakout of 1.2415.
On the other hand, breakout of major support 1.23317 would push GBPUSD towards 1.1985 or even lower! [mks_highlight color="#eeee22″]Article 50[/mks_highlight] will be applied within next 2 days, so stay cautious and focused on technical chart.
EURGBP:
Temper: Bearish
EURGBP having bearish price once touch the previous higher high trendline (high of Feb11,2016 and Feb25,2016). Which is also a 50% retracement of Fibo (Brexit high to December low)
However, EURGBP is still above the .86686 and the price acting as major support. Breakout of .86686 would open door to the next major support .85718.
We advise not to take any early entry unless price break the present support.
AUDUSD:
Temper: Bullish
As we mentioned several times that AUDUSD must need to break .75036 to be bearish. Disappointment from Fed pushed the aussie dollar towards major resistant .77314 & .7759
We will short from this resistant zone once we get bearish price action.
Remember, a breakout of major resistant .7759 would open door towards the KEY Resistant .78338. A breakout of KEY resistant is also possible as we are having an outside candle in Monthly chart. So, follow price action, don't get influence by any news/blogs.
WTI (Oil):
Temper: Bearish
As we are talking about the real situation of OPEC and Non-OPEC deal since last December. Things are going out of control as US shale companies increased the output. We believe Russia will do the same sooner than later.
WTI reached our target to the minor support $48.22 and still holding below the major resistant $49.40. A breakout of $48.22 would open door towards another major support $46.41 where Higher Low trendline meats.
If Russia get out from the output cut deal, we will see much lower Oil price, unlikely between $30-$43 for a long time. But we follow only technical chart not the news. All the best for this week.
Do you want more analysis? USDJPY, EURJPY, GBPJPY, USDCHF, GBPCHF, NZDUSD, EURNZD, GBPNZD, USDCAD, Gold, Silver, SPX500, UK100, Nikkei225 and more. Get them at premium membership area.