Weekly Fundamental & Trade Setups – January 2nd to 6th
Fundamental:
Dollar is strong and visited the previous D1 resistant and made it support. And now Dollar having bullish party. And probably will made some new high at this month. This is a week quite week from FED though NFP will lead the week at Friday January 6th.
OPEC and Non-OPEC new output deal is in action since January 1, 2017. Oil would be bullish for now. Any disrespect to the new deal could push oil lower. Our 2017 forecast for the oil price is likely between $40-$60 per barrel.
And Trump's action is in focus as he is unlikely going to withdraw all restrictions once he takes the power. OPEC's honeymoon period is in a question mark!
Technical:
EURUSD:
Temper: Bearish
There is a lot happened last week of 2016. EURUSD had a false breakout at December 30 (last trading day of 2016). Price went up from its Key Resistant 1.0520 but end of the it did close below the Key resistant and made a perfect bearish 'Rejection' candle (Pin bar)! And the following bearish candle of yesterday closed below 1.0461.
Its bearish party time for EURUSD. I am holding Short till next Major Support 1.0206. There is around 250 Pips short opportunity now.
I highly suggest to set your TP at a round number like 1.0230
GBPUSD:
Temper: Bearish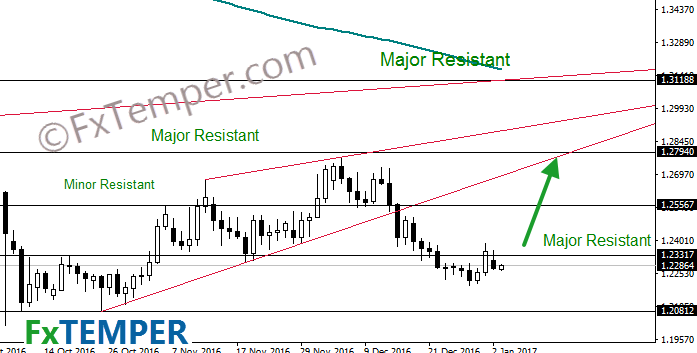 As I mentioned last week GBPUSD daily price action is more complicated now. It broke the major support 1.23317 (which is now acting as resistant) but failing to stay there. It was having a bullish momentum after few Doji candle. But it failed to stay upper the resistant 1.23317.
So now, price action need a daily closing upper than resistant and another daily confirmation closing to make it bullish. I do not encourage to engage any Long position to pound until meet my criteria as I explained. Next Major resistant of pound is 1.2794 with a minor/hidden resistant at 1.25567.
On the other hand, I will only take short position if the price breaks the next major support 1.20812 by a solid closing reaction.
EURGBP:
Temper: Bearish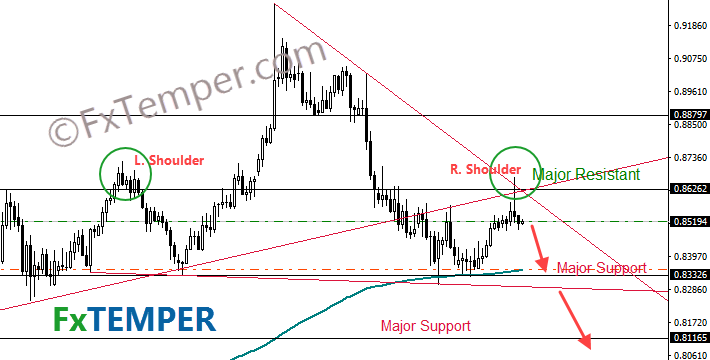 EURGBP is in my top favorite list now, as it has changed a lot last week of December 2016. EURGBP touched the Major resistant .86262 as I mentioned earlier week and heading towards a significant Head & Shoulder!
But more importantly It made a Pin Bar and having another bearish candle with perfect closing reaction below the pin bar! Which is most significant in my price action course! Next Major Support is .83326. I added more short position today.
Please check here the last week EURGBP weekly chart analysis where I explain probable head and shoulder.
GBPJPY:
Temper: Bullish
GBPJPY getting benefit from a very bearish Yen. It had a fake breakout below 143.217. And, I mentioned it last week that it would need another bearish closing to short unless it would be a fake breakout. Here you now can see the power of our price action strategy! Our fake breakout identification is almost 100% accurate!
Anyway Next Major resistant is 148.19 which is the low of a monthly candle (September 2000). A break upper 148.19 would open the door for next Major resistant 151.633.
Earlier Major resistant 145.375 is now minor resistant. We need a closing reaction upper the minor resistant to ignore the possible head and shoulder. You can check better in H4 chart below
AUDUSD:
Temper: Bearish
AUDUSD was the best performing currency in December and it reached it full target. To make a new demand It must have to break the Key support .71446. Next Major support is .7045
Do you want more analysis? USDJPY, EURJPY, USDCHF, GBPCHF, NZDUSD, EURNZD, GBPNZD, USDCAD, WTI (Oil), Gold, Silver, SPX500, UK100, Nikkei225 and more. Get them at premium membership area.