Weekly Forex Analysis and Trade Setups by Shaon Bhuiya -January 23 to 27
Fundamental:
Inauguration of president Trump is completed but market is still waiting for the plan and action of his first 100 days. We expect more information for his fiscal and trade policies in next couple of weeks. Medium term temper of Dollar depends on it though we remain bullish for the longer timeframe. Market will focus on the GDP data at Friday.
Theresa May was a bit clear on Brexit. Supreme Court ruling coming this week. Official start of Brexit is going to happen sooner than later. We will see the GDP data of UK at Thursday.
Best performing currencies AUD and NZD will face CPI data this week. We are bullish at AUD and NZD. Other commodity currency CAD should be weak as Dovish BOC.
We should see the action of Trump administration in coming weeks and how he handle the OPEC. Any surprise comments from Oil exporting nations would make the Oil volatile. Our medium term view on Oil is bearish.
Technical:
(All charts are from FxPro, your broker might have a little different price)
EURUSD:
Temper: Bullish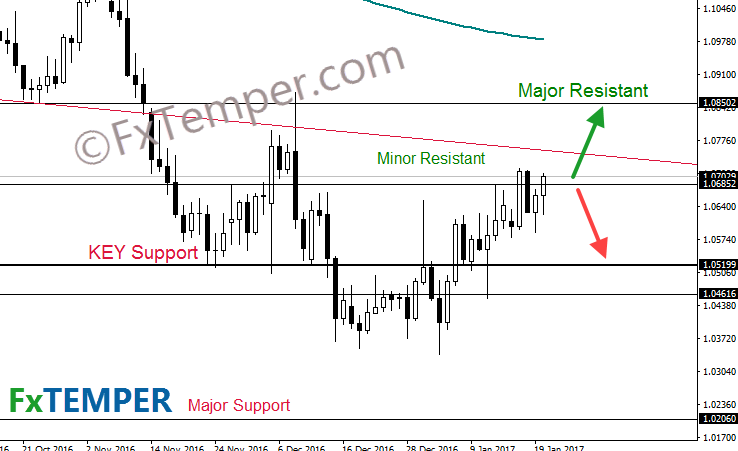 We had 5th consistence bullish weeks from EURUSD. There were some significant changes on technical chart of EURUSD last week. EURUSD confirm 1.06852 as its major resistant which is the high of November 28,2016 and ignored the previous resistant 1.0712.
Next Major Resistant is 1.08502 the low of Oct25,2016. And previous major resistant 1.08247 (the low March 2,2016) is also invalid now.
However, we must need a bullish daily closing (above 1.07029) today to stay long.
GBPUSD:
Temper: Bullish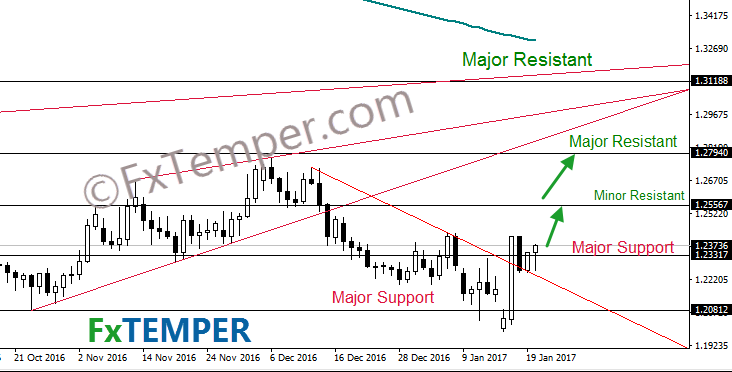 It was a huge gap at GBPUSD last week. But market handled it well. We had a bullish engulfing last Tuesday. Market broke the Lower High trendline and resistant 1.23317 and 1.25567 would serve as new Minor Resistant.
However, in shorter time-frame (H4 chart) we see there is a Major H4 resistant at 1.24183. So, bottom line is you have to wait to take long position until the breakout of 1.24183.
EURGBP:
Temper: Bearish
EURGBP is in my favorite list for couple of weeks. It visited the resistant zone and there was a Bearish engulfing at last Tuesday but it is still holding above the Major Support .86262.
So, there is nothing to do but wait to get a complete double reaction with following price below the support .86262. Which would open the door towards next Major Support .83326.
However, there is another minor support waiting at .85718 (high of December 8,2016), we will need another closing below the .85718 as well.
I will take short position after the breakout of .85718. Which would also break the Higher Low trendline. There would be still 235 Pips remaining.
GBPJPY:
Temper: Neutral
There was significant price action change that took place last week! A New Major Resistant created 142.152 (The low of December 29, 2016). Previous Major Resistant was 143.217 (High of July 15, 2016) which is invalid now. We had to close our long position at 141.80 which was taken from 140.45. We made only 135 pips.
Now, price need to break the new Major Resistant 142.152, which would open door towards 145.375. And 138.821 would serve as next Major Support if market turn bearish.
AUDUSD:
Temper: Bullish
AUDUSD is the best performing currency pair for last couple of months. We had an unclear closing last Friday, I checked with different broker (NY closing) but different price. Few of them closed above the Thursday's candle closing and some of them below. So, I will wait and see the daily candle closing of today to add any long position.
.77314 is the Major resistant which is the high of September 9, 2016.
Do you want more analysis? USDJPY, EURJPY, USDCHF, GBPCHF, NZDUSD, EURNZD, GBPNZD, USDCAD, WTI (Oil), Gold, Silver, SPX500, UK100, Nikkei225 and more. Get them at premium membership area.